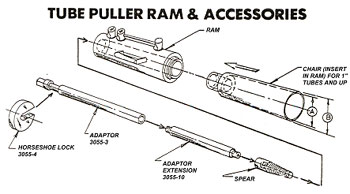 Tube Puller Rams can speed up condenser and heat exchanger tube pulling. Units can be used with manual, electric, or air powered pumps. Chair and adaptor extension are required when pulling tubes larger that 1 inch. (RATED CAPACITY - 30 TONS) (STROKE - 6") DOUBLE ACTING RAM.
A COMPLETE UNIT CONSISTS OF:
RAM
PUMP- AIR OR ELECTRIC (NOT SHOWN)
HOSES
QUICK COUPLERS AND FITTINGS
LOAD CAP
ADAPTOR
ADAPTER EXTENSION
HORSESHOE LOCK
SPEAR
WHEN ORDERING PLEASE SPECIFY TUBE SIZE AND GAUGE.