ROBINSON JRVLD Vacuum Leak Detector is a simple, quick, and accurate test instrument currently used by manufacturers and repairmen of condensers, heat exchangers, and any other tubular apparatus. It finds leaking tubes.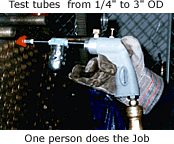 Seal the far end of each tube with a rubber tube plug. Push the rubber nozzle into the near end of the tube. Press the trigger. Compressed air flows through a chamber on the leak detector creating a vacuum in the tube. When the vacuum reaches a specified level, if the tube does not hold vacuum, the tube is defective. Using approximately 90 psi dry clean air, a typical tube (1" OD X 20 GA X 20' long) can be tested in less than 10 seconds.
Vacuum Test 15-18 Hg. @ 90 PSI
ROBINSON JRVLD vacuum tester operates on the ejector principal. Vacuum is generated by compressed air flowing thru a pair of orifices. This tester is suitable for use in all instances where a vacuum supply of 18" Hg or less is required. The tool operates on an air supply of 70-140 PSI. optimum is 90 PSI.
Leaks are detected by a drop in vacuum as shown by the gauge. Large leaks will show up as larger decreases in vacuum. An adjustment screw on the top of the tool varies the sensitivity of the gauge. This screw limits the vacuum air flow into the tool. Then any leak is a higher percentage of the total flow. Results is a larger drop in vacuum at the gauge for a given leak